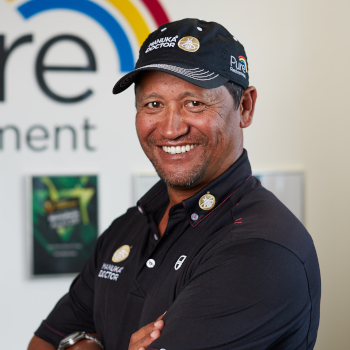 Michael Campbell
Professional Golfer
Michael Campbell has enjoyed a long and fruitful career on golf's professional circuit, as part of a journey which saw him trying the game as a child in his native New Zealand. Here, he discusses that professional journey, his battles with injury, and his successes. In addition, he also talks about his current activities including his involvement with the Staysure tour for players over 50, and his golf academies in Spain.
Most sportspeople have a defining moment where they truly connected with their chosen discipline - was that true for you, or was it more of a gradual process?
It was probably a gradual process, as I really enjoyed playing a variety of sports like rugby, tennis, softball, squash - and of course golf!
You experimented with a number of sports prior to settling on golf – what was it that you think was lacking in those other disciplines that golf provided?
When it came to rugby I knew I wasn't strong enough, big enough and fast enough. I realised that physically I wasn't really made for it, plus after getting knocked around a few times with broken noses etc I felt it wasn't for me. But really loved the whole team environment.
When you first started playing regularly did you have designs at turning professional, or was it purely something you enjoyed that, as your skill level developed, you began to see as a potential career?
I always knew that golf was always going to be my profession, and I probably started feeling that around the age of 10 years old.
Just as you were making an impression on the professional circuit, you developed wrist injuries that impacted on your results for a couple of years – was that a difficult set of circumstances to accept, or was it something that you were determined to overcome?
Because golf is an unnatural movement for the body your wrists, back, and ankles are always problem areas when it comes to injuries. When I'm faced with adversity whether it's mental or physical, it's important to use adversity as a signal of learning and growth.
Many will best know you for your US Open win in 2005 – what are your memories from that weekend, and did you find that that win left you entering subsequent events with a greater sense of self-confidence and assurance?
Yes, absolutely. When you are chased down by Tiger Woods and manage to hold him off by 2 shots at a major tournament it's important that you bottle your thoughts and feelings for future tournaments.
You've recently started playing on the Staysure Tour, a professional tour for male golfers aged 50 and over. Do you find that you're all still as competitive as ever or is there a more relaxed atmosphere compared to your earlier career?
It's definitely a lot more relaxed, but at the same time it's still so competitive. I think as a sportsperson it's a personality trait that will always be within you.