Sovereign Range: In Focus

We've been thrilled to see that the market has taken to our recently-launched Sovereign suite and has been as excited about it as we have. Aimed at trying to open up equity release to as many consumers as possible, the range features a host of products to fit a variety of customer needs, and to help advisers find the best product for their client we've created a product selector, which can be accessed here.
Want to know what makes Sovereign so special? Here are some of its USPs:
| | |
| --- | --- |
| | Minimum age as low as 55 |
| | Max total facility of £1 million (and potentially more on referral to Pure) |
| | Fixed ERCs based on initial advance (not the balance) |
| | Varied drawdown options to best suit your client needs |
| | Wider property criteria, allowing more of your clients to benefit |
| | New ERC free settlement options (Downsizing, Porting and Long Term Care) |
More information on its features can be found in Financial Reporter's coverage of the launch, and to fully discover the ways that the Sovereign range has the flexibility to meet your clients' needs, and its full features contact relationshipmanagers@pureretirement.co.uk.
Awards Update
We've been having an incredibly successful awards season in 2018, here are some of our recent highlights
Recent Award Wins
Best Lifetime Mortgage Lender (MFG Awards)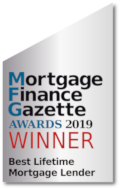 Best Provider for Adviser Support (Equity Release Awards)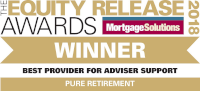 Business Update
Office Move
| | |
| --- | --- |
| We're imminently moving away from our longtime home to a new, A-grade office space in the newly-built Paradigm development. We're understandably excited to be heading towards our new surroundings, but in the meantime please update your records to reflect our new address ahead of the year: Pure Retirement, 3175 Century Way, Thorpe Park, Leeds, LS15 8ZB | |
Christmas Opening
| | |
| --- | --- |
| On the subject of making notes of updates for your records, please find details below of our Christmas opening times. While we're as excited as anyone for the holiday season, we're also endeavouring to continue to provide our characteristic high service levels for as much of the holidays as possible. | |
Pure In The Press
| | |
| --- | --- |
| In addition he's also contributed a column for the latest edition of MoneyFacts - pick up a copy to read his full views. | |
| | | As we continue to expand we currently have openings for Software Developers and a Key Relationship Manager waiting for be filled by someone looking to take their career to the next level. |
| --- | --- | --- |
Latest Customer Feedback
"Everything was very clearly detailed, very easy and pleasant contact. The person I spoke to was caring and attentive. Everything was perfect and went very smoothly, all the way"
Ms Bourlon, Horsham
"Extremely impressed with service and prompt outcome. Thank you all so much"
Mr Greenfield, Nottingham

Tel: 0113 3660 599
Pure Retirement is authorised and regulated by the Financial Conduct Authority. FCA registered number 582621.
Registered office: Pure Retirement Limited, 2200 Century Way, Thorpe Park, Leeds LS15 8ZB. Company registered in England and Wales No. 07240896.
View Pure Retirement's Privacy Policy